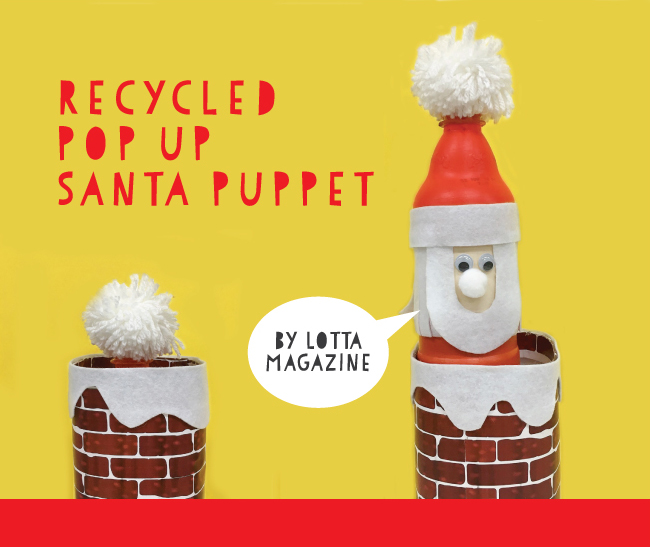 This cute Santa puppet, who pops up and down the chimney, is mostly made from recycled bottles.
THINGS YOU NEED
A square bottle (I used a Charlie's Juice bottle), a santa shaped bottle (I used a Solo bottle), stanley knife, electric drill, chimney bricks printable, white felt, scissors, glue, masking tape, red and skin coloured paint, paint brush and tray, pompom (little one for nose, white wool and a scrap of cardboard (to make the hat pompom), googly eyes, piece of dowel, styrofoam ball (that fits inside your santa bottle) and a tape measure.
HOW TO MAKE
Watch this video to see how to make your own Pop-up Santa Puppet.
 The first steps are just for grown ups. First cut the top off the square bottle and the bottom off the santa bottle. You need to put a hole in the bottom of the square bottle. The plastic at the base can be very tough, so the easiest way is to drill a hole in the base with an electric drill. The hole needs to be just bigger than the dowel rod.
Peel off the stickers and remove any glue residue. I've found that eye makeup remover is great for this.
Time to paint the Santa bottle. Use masking tape to cover a band for the face then paint the top and the bottom of the bottle red.  You probably need to paint two coats to cover the plastic evenly.  Peel of the masking tape and paint the middle section skin coloured. Set Santa aside for the paint to dry.
Download and print out the chimney bricks PDF. You probably need two pages to cover your bottle. Trim the pages down to size and glue them onto the outside of the square bottle.
Measure around the top of your chimney bottle. Cut some white felt to add snow around the top of your chimney and glue it on.
Once Santa's paint is dry it's time to decorate him. Measure and cut a rectangle of white felt for the hair, fringing it. Glue onto the bottle around the edge of the skin section.
Measure around the bottom of the hat section. Cut another felt rectangle and glue it around the rim of hat.
Cut Santa's beard from white felt and glue it on. Add the googly eyes and pompom nose.
Make a large, wool pompom for the top of his hat. I needs to be big enough to cover the mouth of the bottle. Glue it in position.
Insert the dowel into the styrofoam ball. Add some glue to the ball and attach it to the inside of the Santa bottle. Allow it to dry.
Feed the stick through the hole in the bottom of the chimney and it's ready to go.
If you make one I'd love to see. Take a pic and post it on Instagram with #lottamagazine or post it on our Facebook Page.