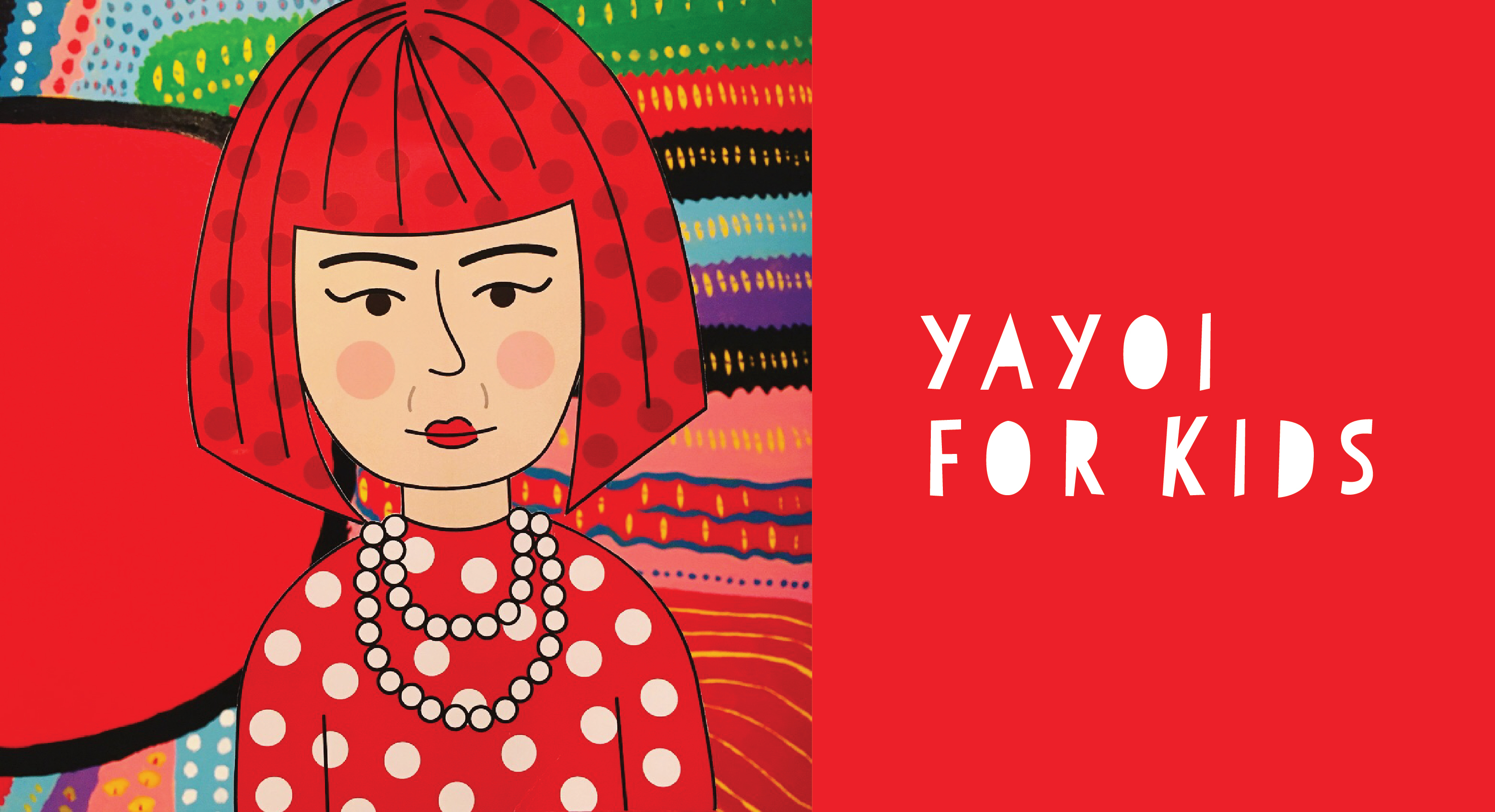 Get yourself a packet of dot stickers and get ready for some Yayoi Kusama inspired fun.  I created some Yayoi colouring pages for DIY Mag Issue One but after visiting the 'Life is the heart of a rainbow' exhibition at Brisbane's Gallery of Modern Art I was totally inspired to create more Yayoi inspired fun for kids.
Yayoi Kusama is a Japanese artist who has been called the 'Princess of Polka Dots'. All her art, including paintings, installations, sculptures and fashion are absolutely covered with polka dots. Patterns, bold colours and fun interactive installations make Yayoi a great artist for kids to explore.
FLOWERS THAT BLOOM AT MIDNIGHT
Inspired by Yayoi's sculptures 'Flowers that bloom at midnight', I have turned a plastic soft drink bottle into a fantastical, polka-dotted, science-fiction inspired midnight bloom that kids can make.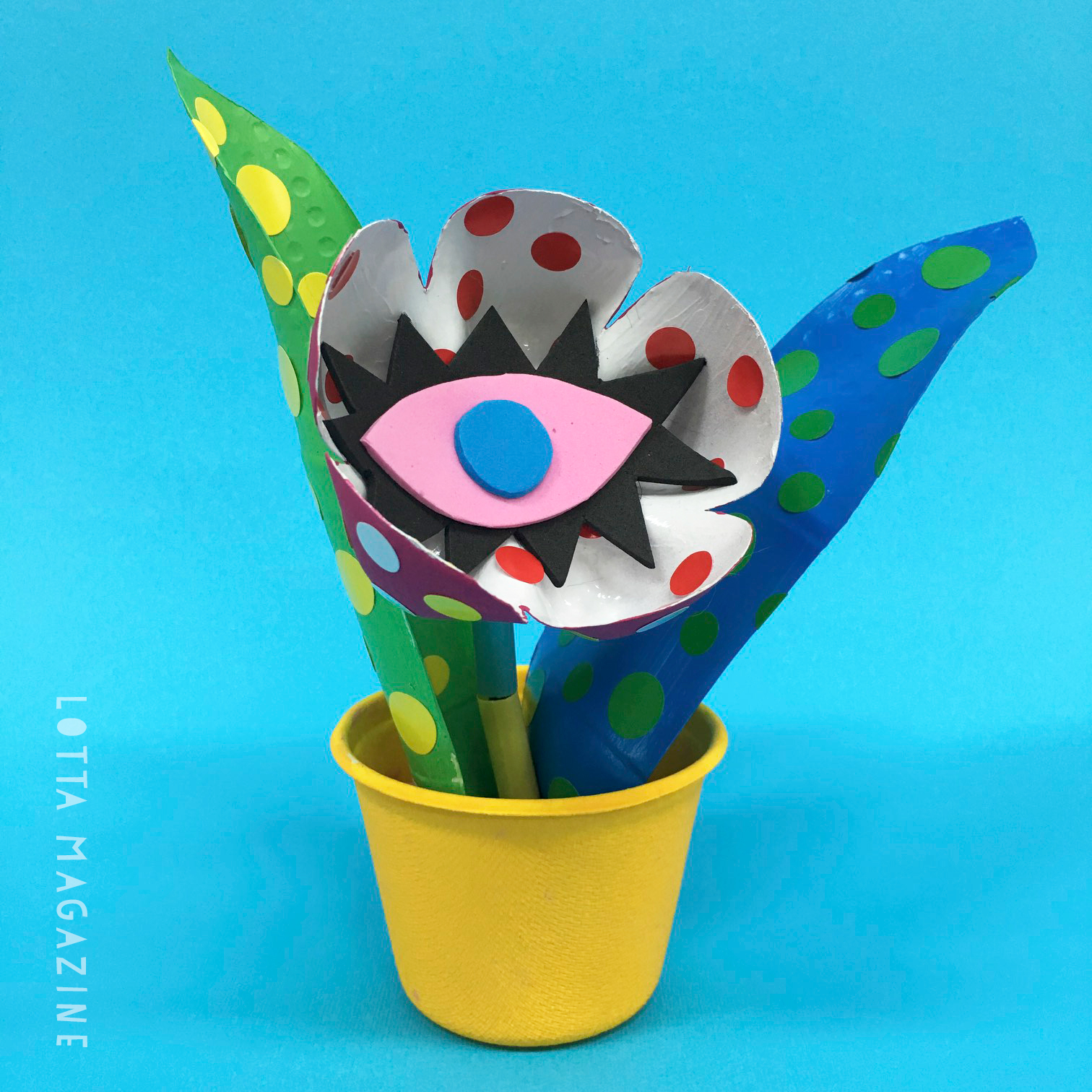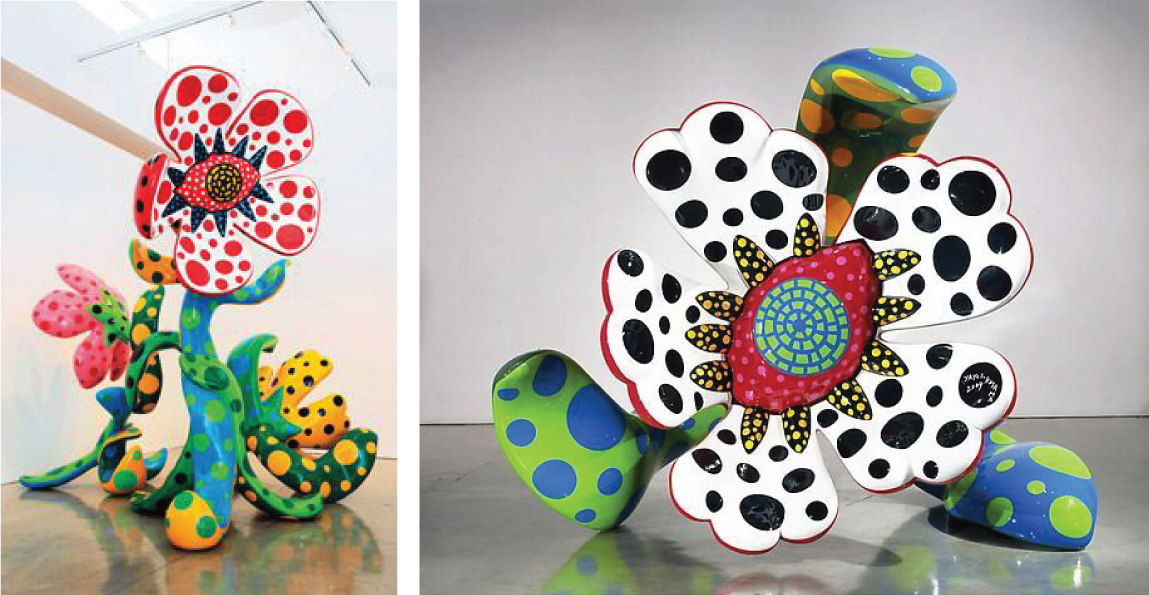 THINGS YOU NEED
Plastic bottle (I used a Coke bottle), spot stickers, craft foam, scissors, paint, paintbrush and tray, pipe cleaner, air drying clay, paper cup, colourful drinking straws (optional), craft glue.
HOW TO MAKE
GROWN UPS ONLY: Cut the bottom off the Coke bottle. This will be come the flower.  Then cut off the sides of the bottle — these will become the leaves.
Shape the bottle base into a flower shape with scissors.  Cut out two leaf shapes from the sides of the bottle.
It's time to paint your flower and leaves. Painting plastic can be tricky.  If an adult spray paints an undercoat of plastic primer it will be much easier. Otherwise it will take a couple of coats.
Add dot stickers all over your midnight plant.
Cut the eye shape from craft foam and glue it into the centre of the flower.
Paint the paper cup which will be the pot for your plant.
Roll a ball of air drying clay and put it inside your cup. The clay will create weight in your pot to make sure it doesn't fall over.  Push the leaves into the clay. Fold a pipe cleaner in half and twist it around itself — this makes it stronger. Push the end of the pipe cleaner into the clay. Leave it to dry.
If you want to cover the pipe cleaner and make it more colourful, you can slide some small cut lengths of drinking straws over the top. Leave the top of the pipe cleaner exposed.
Glue the flower onto the top of the pipe cleaner.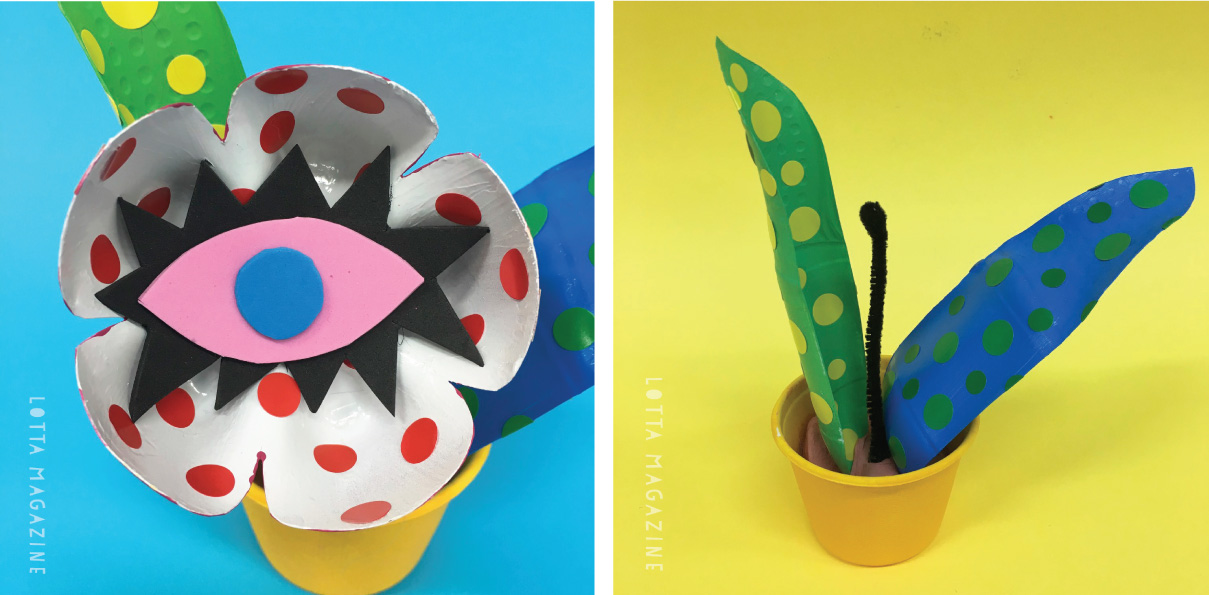 COLOURING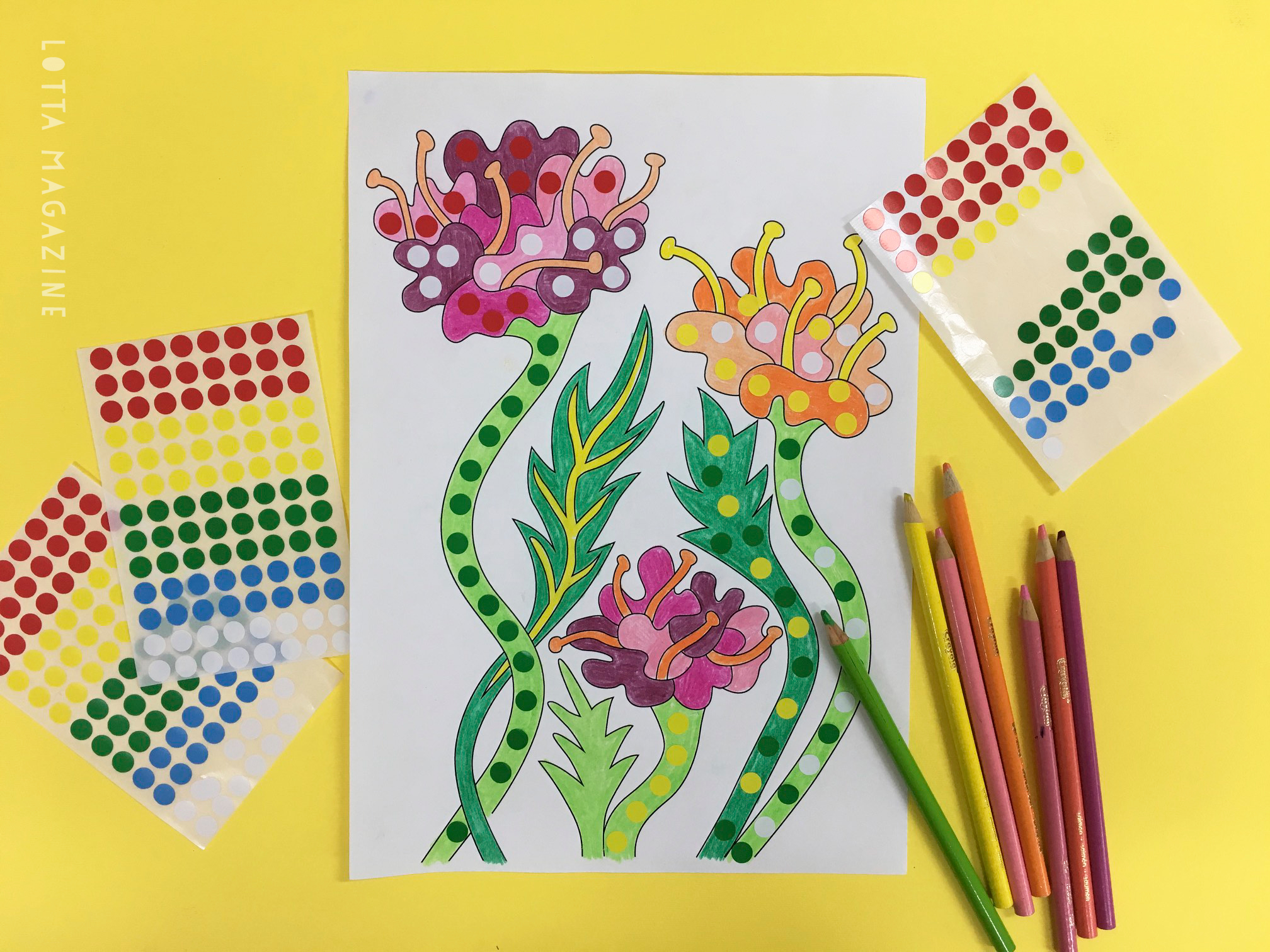 I created a few Yayoi colouring pages for Issue One of the Colour DIY Mag. Here's one I have resized to A4 that you can download as a free printable. Colour or paint the page, then use some small dot stickers to add Yayoi's trademark dots.
MINI OBLITERATION ROOM
The Obliteration Room is an installation where visitors cover a white room with colourful dot stickers. It is heaps of fun, but unless you visit on the first day you don't get the satisfaction of starting with a blank slate. So I thought it would be fun to create a mini obliteration room with a shoe box and some dollhouse furniture.

THINGS YOU NEED
Shoebox, white paint, dot stickers, dollhouse furniture
HOW TO MAKE
This one is easy. Paint your shoebox white (inside and out). Add some dollhouse furniture — if you a taking this seriously, you should paint it white too.  Now start 'obliterating' your room with dot stickers.
If you want to take this idea further, you could find a dollhouse at the Op Shop and paint it and the furniture white.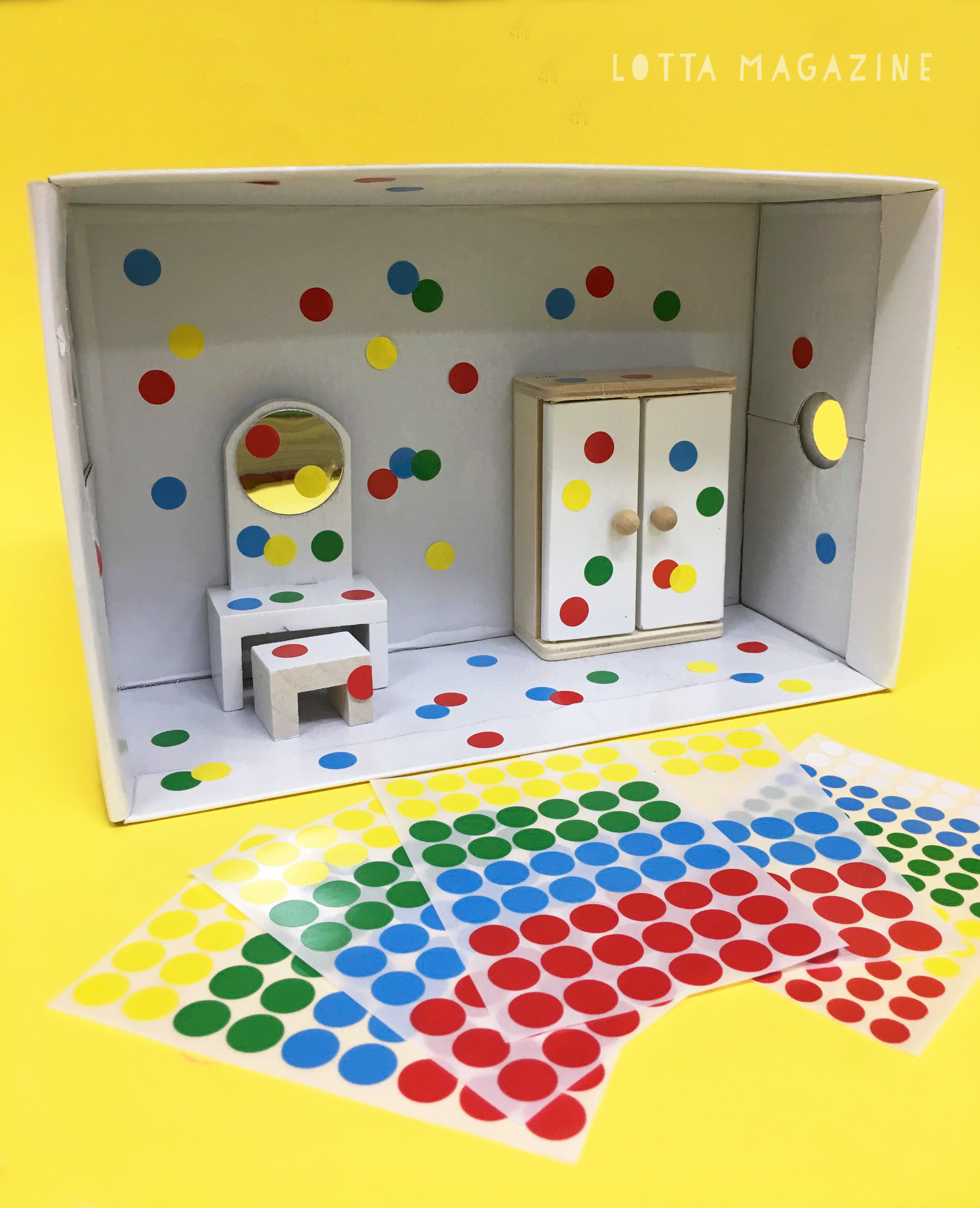 For more famous artist fun, featuring Van Gogh, Picasso, Matisse, Klimt, Frida Kahlo and more, click here.