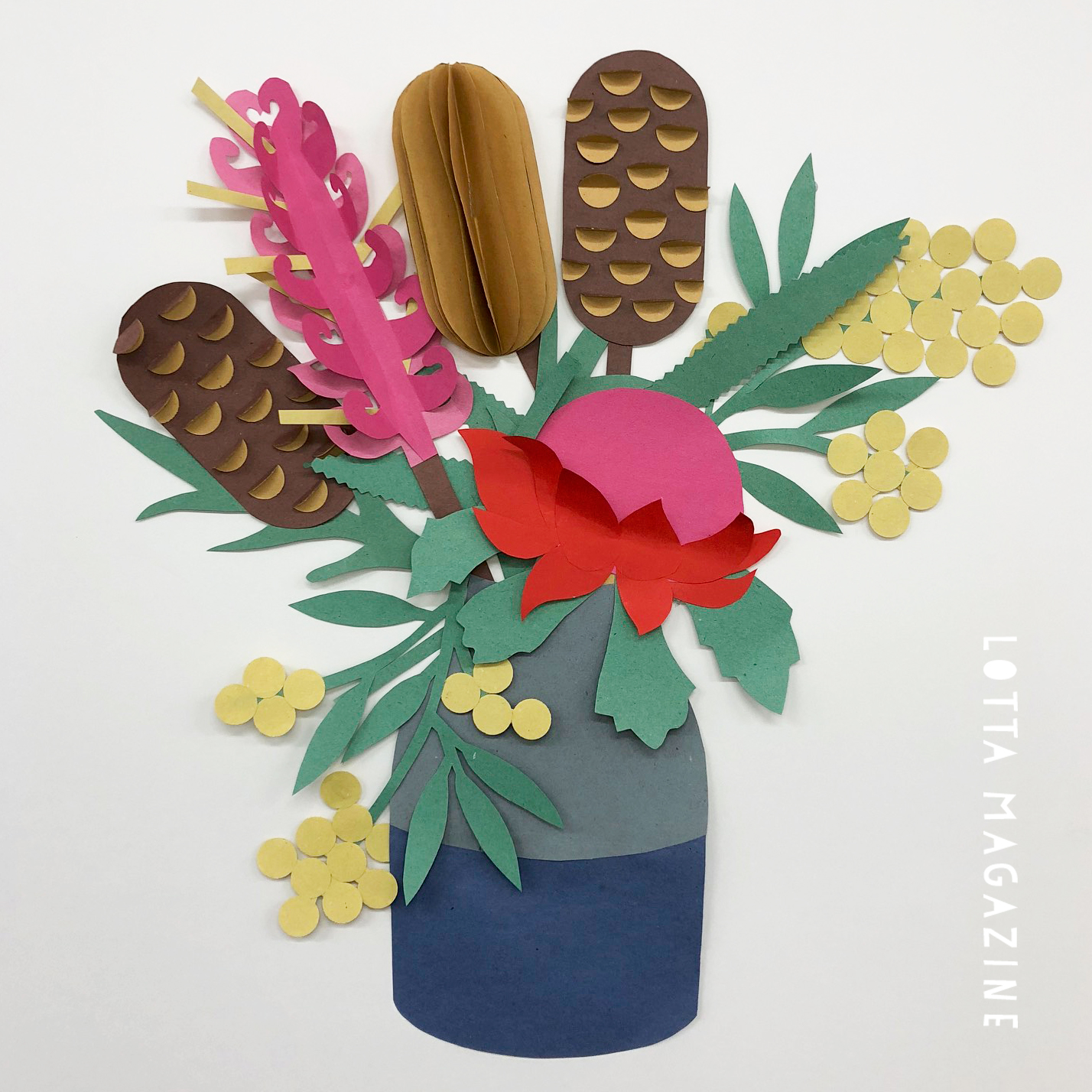 It's almost Australia Day, when we Aussies celebrate what's unique about our country.   So I've decided to create a craft project that celebrates our amazing native flora — it's a 3D collage of Australian flowers.
I got a little carried away with this project, so it's a family project as some of the cutting will probably require a grown up.  At the end of a crafternoon you will have some frame-worthy art imbued with the memories of making it together.
THINGS YOU NEED
Coloured paper (browns, greens, pinks, yellows, red), scissors, glue stick, circle paper punch (15mm), serrated scissors, sheet of cardboard
HOW TO MAKE
I have created a template for you (download it here: Lotta Aust flowers ).  You don't have to cut these out perfectly for the project to work, just use the template as a guide.
If your paper is A4 size, you can print our templates directly onto the paper.  Otherwise, tape the white printout onto the coloured paper and cut them out.
BANKSIA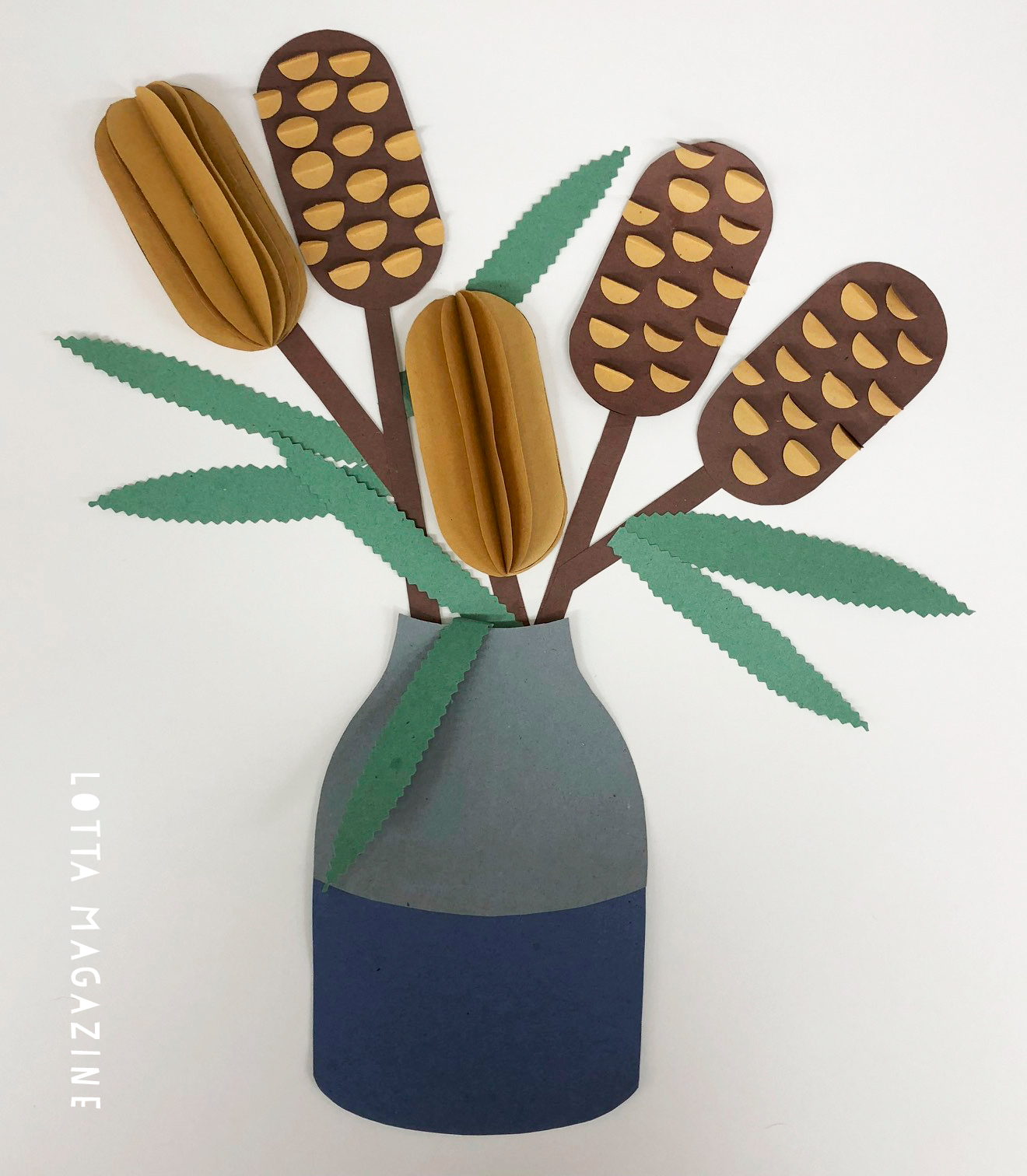 We've made a banksia flower and a seed pod.
To make the seed pod cut out the template shape from brown paper. Glue a sheet of light brown paper onto a sheet of dark brown paper. Punch lots of circles from it.  Fold the circles in half and glue them onto the base paper.
For the Banksia flower, cut out four of the banksia template.  Stack three of them them on top of each other and fold the pile in half vertically.  Put a staple in the middle, on the fold line, to hold the pile together.  Now fan out the folds and glue the final folded shape on top of the staple to hide it.  You can make a Bottle Brush with the same method, just add some snipped edges.
Cut some stems from brown paper. Cut some leaves from green paper using serrated scissors.  Put it all together and you have a paper Banksia.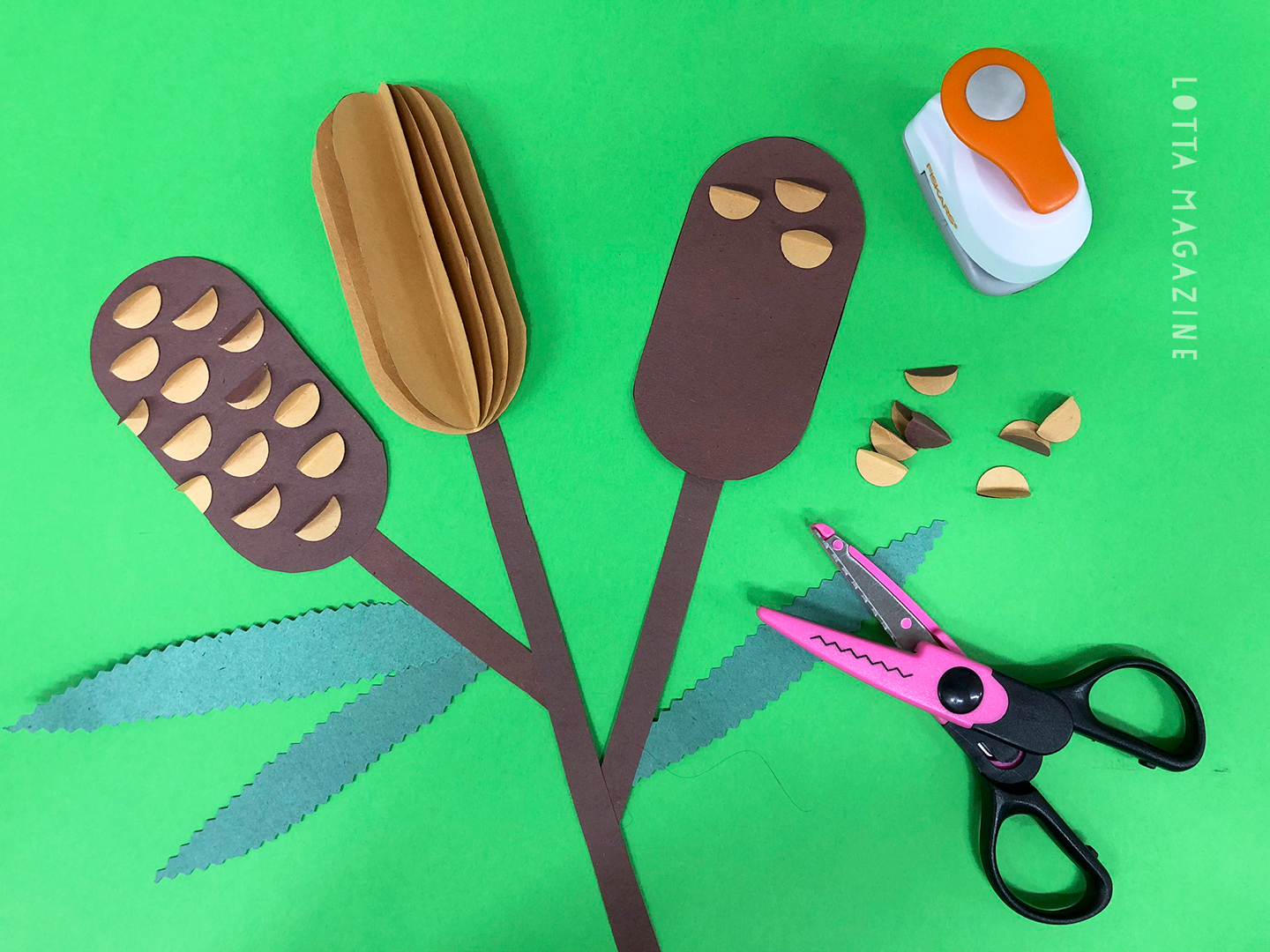 GREVILLIA AND WARATAH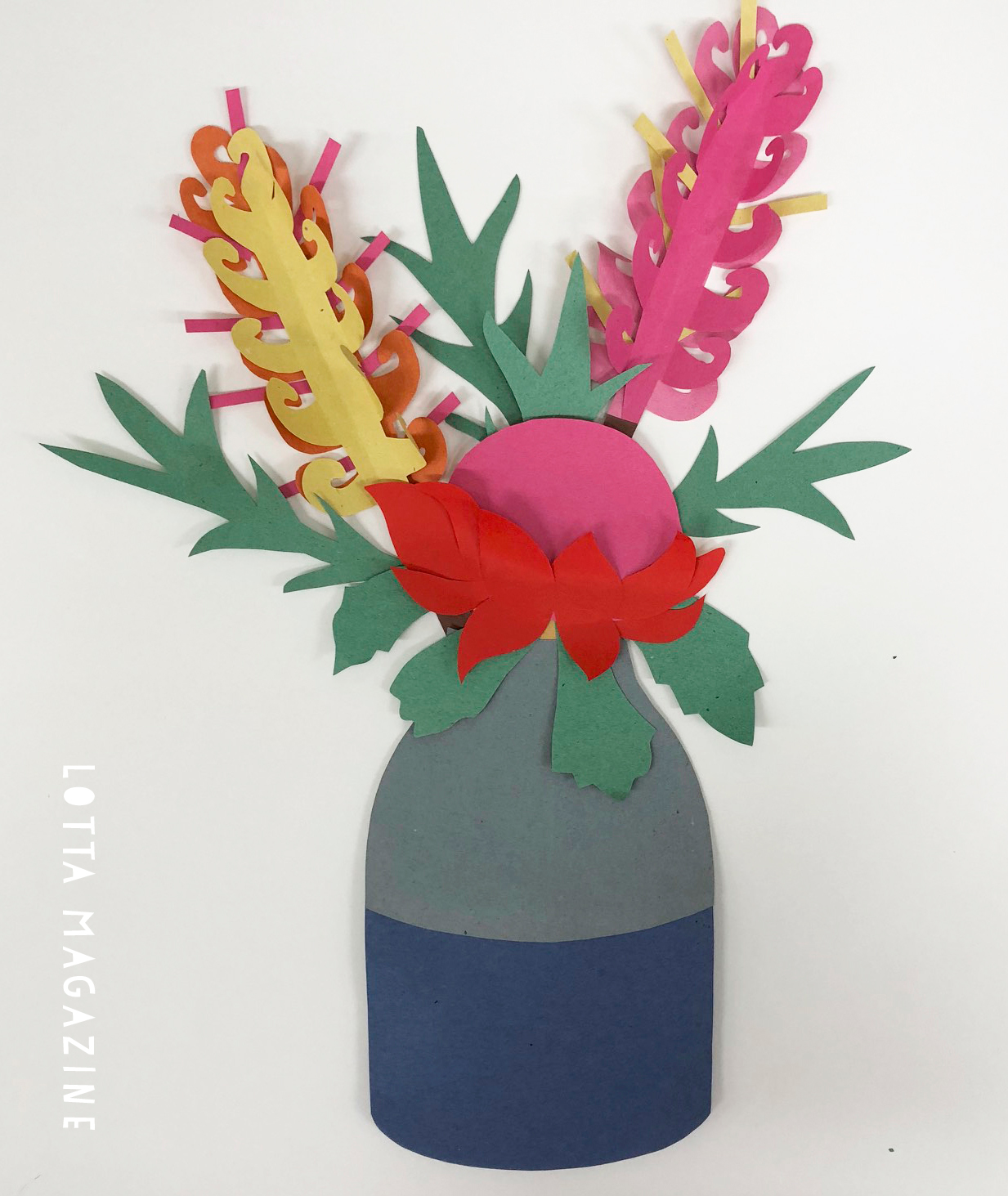 Parts of these  flowers are a little trickier to cut, so they may require a grown up.  Use our template to cut out all the pieces and glue them together.  Fold and roll some of the pieces to make them sit up.
The grevillia stamens and both stems aren't on the template because you just need to cut some rectangles.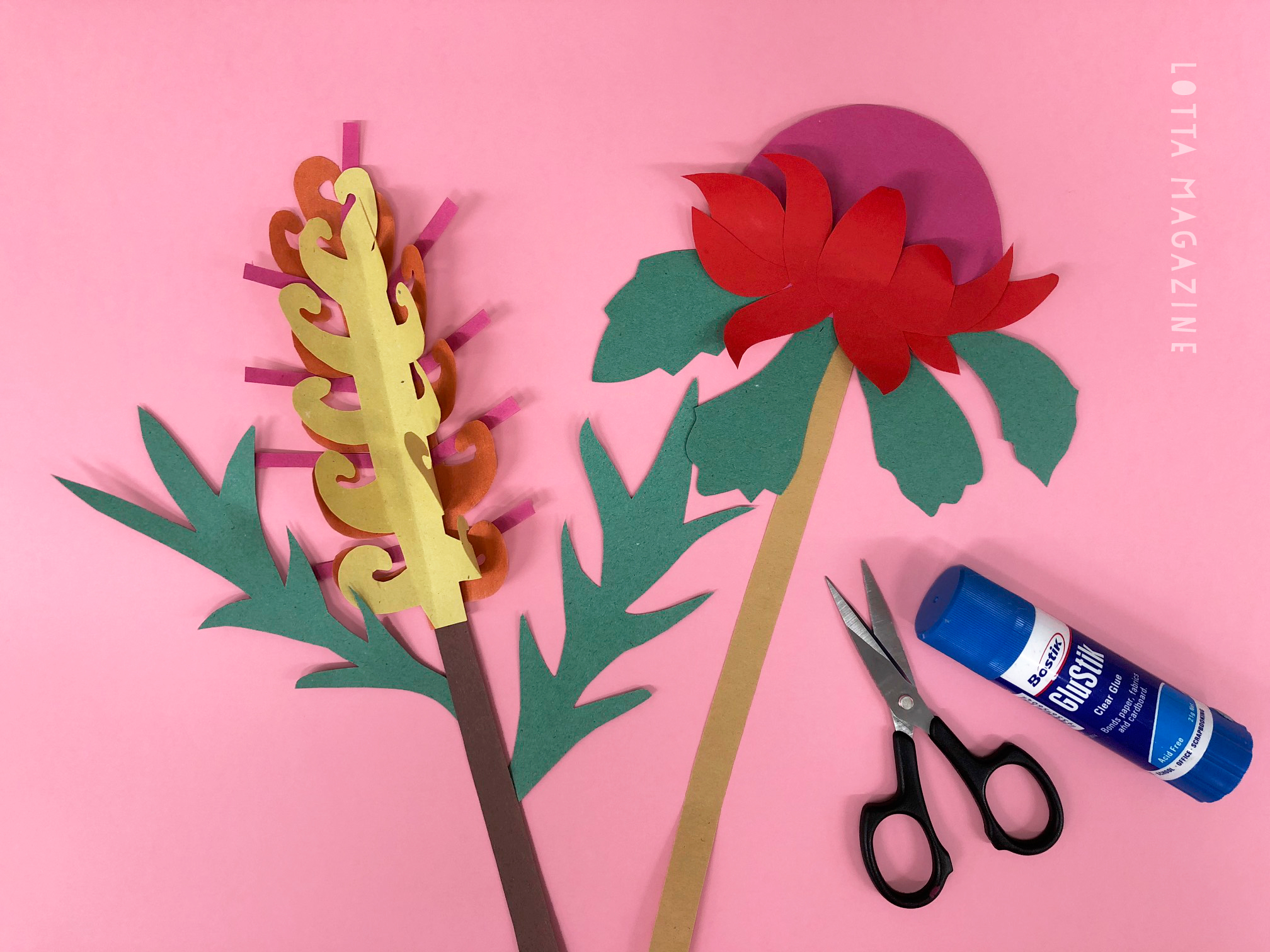 WATTLE
The leaves are a little fiddly to cut out, so may need a grown up.  The flowers are simple, just punch some circles from yellow paper and glue them onto the stems.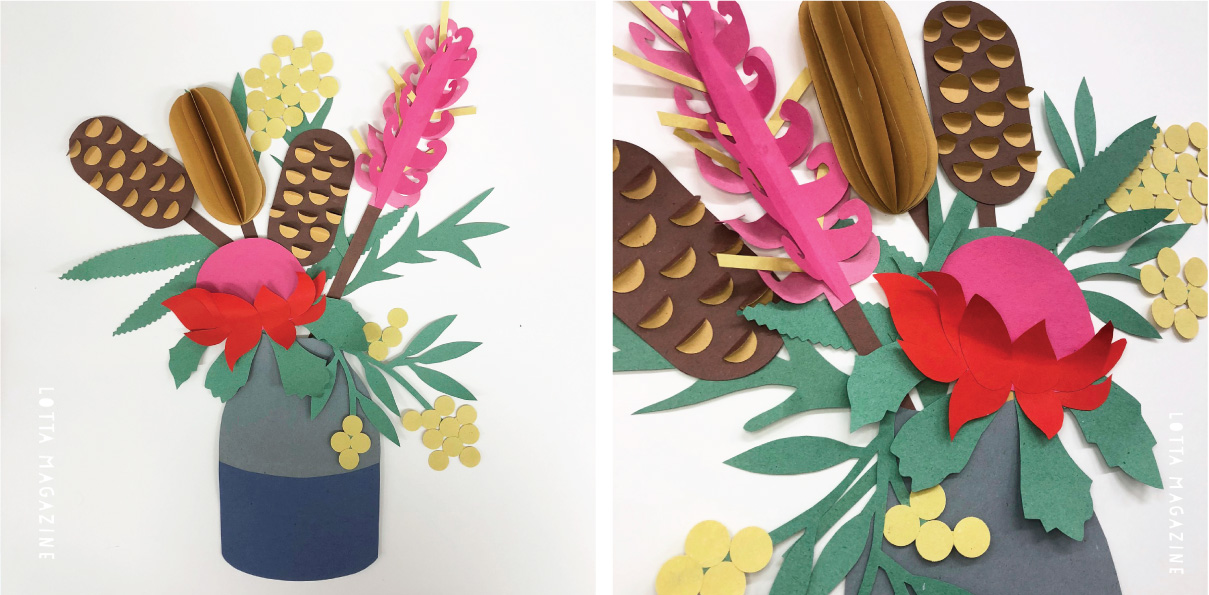 Make all your flowers then start arranging them on top of your sheet of cardboard. Cut out a vase and add it to your collage.  Once you are happy with everything, glue it in position.

SaveSaveSaveSave
SaveSaveSaveSaveSaveSave
SaveSaveSaveSaveSaveSaveSaveSave
SaveSave