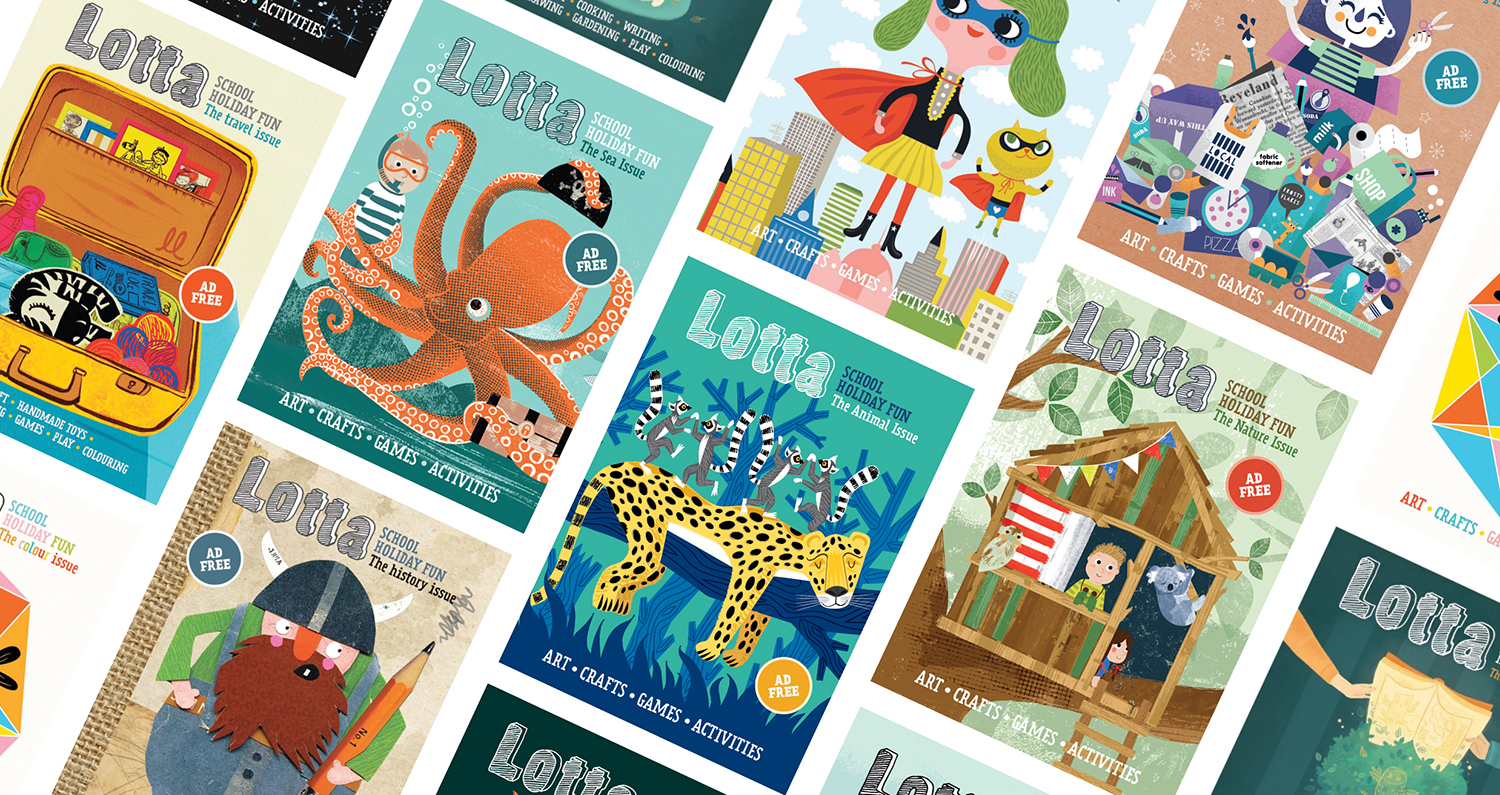 A LITTLE ABOUT LOTTA
Lotta is a magazine for 5-10 year old kids that is full of school holiday activities. It is Australia's first ad-free kids magazine. Each issue is based around a theme — Decorating, Nature, Recycling, Animal, The Sea, When I Grow up, Fright, History, Space, Colour, Secrets, Travel and Story — and are packed with a lot of ideas for school holiday fun. These include art ideas, craft activities, game ideas and other activities.
We currently aren't making new issues.
A LOT ABOUT LOTTA
At Lotta Magazine, we are trying to do something different.
No ads. Lotta is ad-free because we believe that children should be children before they are consumers. We don't want to sell plastic toys or processed food to your kids, just our ideas for fun and creative ways to while away the holidays. Our magazine is 100% fun, no filler.
Gender neutral. Lotta is not a boys magazine or a girls magazine, we are a kids magazine because we believe that all kids should have a variety of experiences, not just those that align with gender stereotypes.
Our aims are to:
Make school holidays less painful. Banish boredom with our many holiday activity ideas. Clear instructions and a downloadable materials list make our ideas easy for parents to facilitate. Our projects won't break the bank — many of our ideas are free if you have some basic art supplies. Lotta Magazine gives you great value for money with over 40 ideas for only $10.
Encourage creativity. Childhood is a time of natural, boundless creativity and curiosity. To think of something in a new way, to enquire about something that others don't question, to come up with something truly unique is what children do best. Unfortunately, as we grow up, many of us lose this precious gift. Creativity is an important and useful skill in all areas of life, not just for art. We all need to generate new ideas, solve problems and think expansively regardless of our occupation.
When we give our children the space and encouragement to explore their creativity, they can become our most inspiring artists, inquisitive scientists and original entrepreneurs. Lotta aims to help you do this with a variety of fun, new experiences to feed their imagination and end products that encourage endless free-play.
Make art & craft accessible. Many grownups are scared of art and craft because we believe we don't have the right skills or aren't creative — but you don't need to be to enjoy activities with your kids. Lotta gives you the inspiration and very clear instructions to make them reality. Our projects produce amazing results through very simple processes.
Diversify play. We love iPads,TV and technology too, but we believe that everyone needs a variety of experiences and an opportunity to let our own imaginations take the lead sometimes. Our magazine gives you a lotta ideas for other things to try.
WHAT PEOPLE SAY ABOUT LOTTA
Khali Whatley from Little.Lovely 'I'm completely smitten. Lotta Magazine is refreshingly different from other children's magazines and is exceptionally well designed.'
Tania McCartney from Kids Book Review 'Stunningly photographed, laid out and designed, with original, quality content. Creativity and eye candy all rolled into one publication, this is a parent's dream… oh, and the kids just may enjoy it too.'
We heart books 'This is an absolutely incredible magazine that is full of the most amazing ideas for craft and activities with children. It is so beautifully produced, the photography spectacular and the activities so innovative. It's so exciting we just can not wait for the next issue.'
Jacki from More than a Mummy 'It's got TONS of adorable ideas that inspire creativity and guarantee that kids are using their brains for more than just video games. I think it's an awesome resource for parents and teachers and I adore the fact that it's scheduled to be released to coincide with school holidays (genius, sheer genius!).'
Susan Stephenson from The Book Chook 'I really like the range of activities and the way they involve kids in purposeful, creative fun. It's jam-packed with stuff kids will really want to do — creative stuff, fun stuff — and yet still things we adults figure will help them learn too.'
Sue Mundy from Style My Child 'If you're like me and love a little inspiration when it comes to entertaining kids, Lotta Magazine is just the ticket. This magazine is packed with awesome ideas the kids will love to sink their teeth into.'
Trudie Bristow from Journey to Bliss 'Lotta encourages kids to be creative whilst showing parents and caregivers that it doesn't need to cost you the earth to do so.'
Debra Dane from Home.Life.Simplified 'I can heartily recommend them. The kids are going though them and squealing with delight, "bookmarking" all the things they want to do. I keep hearing "cool" and "wow" as they are turning the pages.'
Julian Jang-Jaccard from Alyxia.com 'Alyxia really loved everything about this magazine and wanted to read it every night from front to back.'
Katrina Whelen from Babyology 'Imagine, a great magazine for kids with no pesky ads but lots and lots of things to keep them busy during the school holidays.'